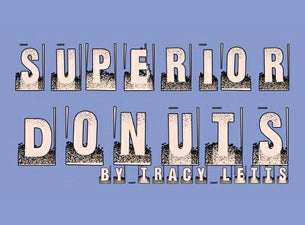 Mary-Arrchie Theatre Co. is pleased to announce the return of its Jeff Award nominated production of SUPERIOR DONUTS by Pulitzer Prize winner Tracy Letts, viagra directed by Matt Miller and featuring nearly all of the original Mary-Arrchie cast. SUPERIOR DONUTS will play October 31 – November 25, generic 2012 at The Royal George Cabaret Theatre, shop 1641 N. Halsted St. in Chicago.Director: Matt MillerFeaturing: Richard Cotovsky (Arthur Przybyszewski) and Preston Tate, Jr. (Franco Wicks) with Christopher Borek, (Kevin Magee) Millie Hurley (Randy), Bryan Kelly (Kiril), Joanna Maclay (Lady Boyle), Karl Potthoff (Luther), Paige Smith (Max) and Bradford Stevens (James).

Location: The Royal George Cabaret Theatre, 1641 N. Halsted St., Chicago

Dates: NOW thru DECEMBER 31st!

Curtain Times: Thursdays at 8 pm; Fridays at 8 pm; Saturdays & Sundays at 3 pm & 8 pm.

Tickets: $50. $10 discount for students/seniors. Tickets go on sale Friday, October 11 and will be available in person at the Royal George Box Office or through Ticketmaster at www.ticketmaster.com.

20 tickets for $20 each are available the day of eachperformance by calling (773) 704-6000.
Show Info:
NOW THRU DECEMBER 31st, 2012!
All performances at The Royal George Cabaret Theatre, 1641 N. Halsted St., Chicago
Read the program for SUPERIOR DONUTS here. Courtesy of Footlights

4 JEFF AWARD NOMINATIONS including: BEST PRODUCTION, BEST ACTOR (Preston Tate Jr.), 
BEST SUPPORTING ACTRESS (Susan Monts-Bologna),  & BEST FIGHT DESIGN (David Woolley)!
Press Snippets:
"Tracy Lett's 2008 comedy has been produced at Steppenwolf Theatre and on Broadway-but after seeing this fantastic production in Mary-Arrchie's shoebox space, it's hard to imagine as a big-stage show. Richard Cotovsky is excellent as Arthur Przybyszewski, a lonely, aging radical who runs the shabby doughnut shop he inherited from his immigrant parents. The tale of Arthur's reluctant friendship with his wisecracking young shop assistant, Franco, and their run-in with a violent bookie, has the deep-fried flavor of sitcom. And yet it engrosses from the get-go. The local touches that might feel like Chicago schmaltz on Broadway (a mention of Carol's Pub, the el rumble in the background) come off as homey here."
– Chicago Reader (Recommended!)
"With smart plotting, Letts deftly turns what may look like stale character types into fresh baked goods. Shuffling and disheveled, Cotovsky's well suited to the good-hearted guy who's given up on possibility. Tate, despite his tendency to swallow his words, brings a natural spark and wit to Franco. As two of the shop's few patrons, Millie Hurley and Susan Monts-Bologna offer standout support"
– Time Out Chicago
"One of the best things about reviewing theatre is finding the hidden gems: hole-in-the-wall storefronts or dusty park district venues that burst with well-kept secrets. In the case of Mary-Arrchie Theatre's Superior Donuts, the secret's out: the show is sold out through this weekend. The intimate space guarantees a glorious intense experience, but it doesn't hold many, so get your tickets now. A slice of Chicago –  in all its gritty, imperfect glory – awaits."
-Chicago Theater Beat (3 1/2 STARS!)
"Mary-Arrchie just would not be Mary-Arrchie if every production didn't introduce a powerful ensemble, and 'Superior Donuts' is right there with it. Mary-Arrchie's Artistic Director and another Chicago favorite Richard Cotovsky performs beautifully as Arthur. I am deeply convinced this part was made for Cotovsky. Alongside Cotovsky is his scene stealing co-star Preston Tate Jr., whose impeccable comedic timing eased us along comfortably. 'Superior Donuts' is filled with quirky characters who parade around the donut shop, and Mary-Arrchie does an excellent job filling out the extra space with exceptional talent.
Mary-Arrchie is one of the few companies in Chicago that delivers time and time again with their outstanding and often chilling tales of human essence. And 'Superior Donuts' is another great reason to head up to Angel Island for some quality theatre."
– Chicago Stage Style (4 STARS!)
"Matt Miller directed the ensemble, and generates heat from the other characters as well. Preston Tate Jr. as Franco has fun tweaking the polar opposite Arthur, his genial enthusiasm lighting up the stage and prompting the hope that is necessary to motivate the shop owner. Millie Hurley instills a sense of pride into a lonely cop character whose patience is rewarded. The surprisingly delicate Bryan Kelly plays a hulking Russian muscleman, and proves that one gesture can speak a thousand languages.
Rarely are the street rhythms of Chicago captured in art, but 'Superior Donuts' does it by depicting those rhythms, like a heartbeat that keeps responding to the inevitable in both time and evolution within the organism that is the city."
– Hollywood Chicago
Under the direction of Matt Miller, the talented ensemble transport us easily to the Uptown neighborhood. Scenic Designer Jenniffer Thusing recreates a dingy joint under the Red Line. It has all the vintage ambiance that ensures regulars frequent it and new people scurry past. Richard Cotovsky (Arthur) is the fixture behind the counter. Cotovsky is an overage stoner. He transforms from curmudgeon to friend with an awkward but endearing awakening. The budding relationship between him and Preston Tate, Jr. (Franco) charms like the old guy and kid in the movie UP. Tate is a wonderfully energetic chatterbox. His earnest enthusiasm is adorable. The surprising bromance is subtle and satisfying. Two other standouts in the solid cast are the two ladies looking all too authentic in their roles. I'd swear I've gotten a ticket from Millie Hurley (cop) and given money to Susan Monts-Bologna (homeless woman)."
-Katy Walsh, ChicagoNow
"what elevates it is the chemistry of Cotovsky and Tate. Their combination of dry delivery and snap-wise-cracks helps their evolution from strangers to friends feel more genuine than the script might allow. Everyone in the cast gets a chance to shine. Ancillary characters get moments of insight that make this little world feel fleshed-out, full of quirky idiosyncrasies in a larger environment. Together, they transform what could have been trite into a sincere window to a weary world."
– ChicagoCritic.com (Recommended)
"In short: I really dig Donuts. And Mary-Arrchie's superbly directed, designed and acted production is very much worth seeing, exemplifying the very best of Chicago storefront theatre. So get your tickets before this show closes up shop."
-Chicago Theatre Addict
HI-RES PRESS PHOTOS
(Right Click and Save to Desktop)

PRESS PHOTO 1
(l to r. : Richard Cotovsky, Preston Tate, Jr.)